Our next Amazon-Tour run through in October 2013.
We expect smal groups between 4 until 6 persons, which enjoy the adventure in the tropical nature (rivers, jungle, exotic animals etc.). You get to know the greatest natural reserve of the earth.
Start of the boattrip
From Belém we start our 6-days-tour on the waters of Amazonian. We leave the civilization behind us to live in a world full with adventure and freedom.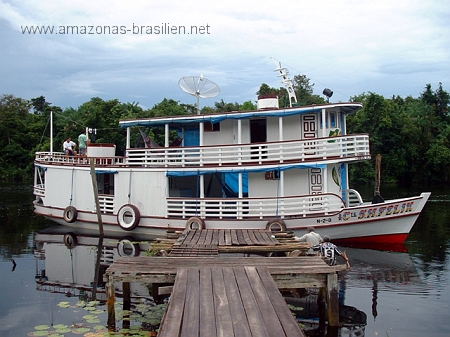 Our native boatguide has a lot of experience with the amazon-river and know the area very well. On our tour we will drive over 7 different rivers and you will see, that there are different colors of the water. For example has the Rio Aramá and Tucúpi a brown color while the Rio Mapuá is dark colored like Coca-Cola and after the Baia Melgaco we have clear water. The dolphins of the amazon-river which are grew and pink colored will be often our companions on our tour.
Target of worldwide attention, Amazonia is today the greatest natural reserve of the earth. With its millions of square kilometers of cities, jungle, rivers and rich soil, Amazonia is inhabited by wonderful people, animals of all species and many indigenous nations. It retains 20% of the surface of the earth, 1/5 of the world availability of fresh water and 1/3 of the world reserves forest.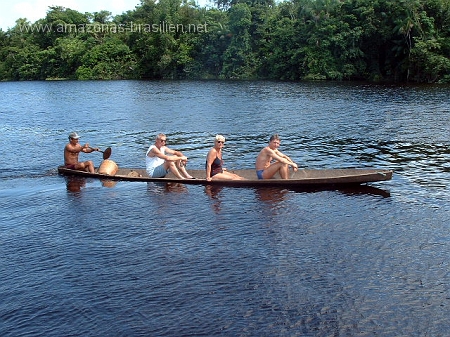 During our journey we will often stop and explore with the canu narrow rivers for fishing.
The best travel season to explore Amazonia is from July until September.
Video
The following video is to mediate a few small impressions of our journeys.