For us being happy means to live in one of the world's
most fascinating corner and to enjoy every day and every moment.
Always facing summer and sun.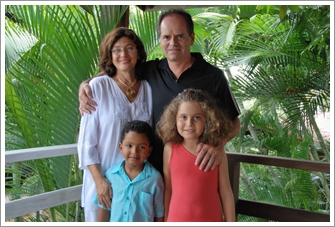 From June until September enjoying the spectacular rainforest on our houseboat and come in touch with fauna and flora of Amazonian.
From September until May living in the charm of northeast Brazil, between beautiful beaches and the rhythm of brazilian music.
My wife Helena is grow up in Amazonian. She was born on the Island Marajó where she spent here childhood. In Belém, the capital city of Pará, she studied law and has worked as a lawyer until 1989, till we were move together to Recife. Together we founded ONDA BRASILEIRA, which is today more than a guest-house with nice rooms (look also our guest-house).
Between June and September is in northeast of Brazil rain season that's why we close our guest-house and move for our tourism activities to Amazonian.
Since 1995 we offer excursions on our houseboat into Amazonian. With us you can witness a spectacular journey, where the nature celebrate and unique firework of impressions.
Contact us by phone, fax or e-mail. Your contact person who speaks English, Portuguese and German is Hans Pahl.
We hope you have lots of fun browsing through our web site and it may even wake your appetite for an excursions into Amazonian.
Hans Pahl