All-in price is U$ 6000,- up to 6 participants, this price contains:
Tickets for the battleship Belém – Breves – Belém (in 4 – Bed cabin)
5 days stay on our private boat with all meals (including Caipirinhas)
German and english language support during the entire tour
Payment:
40 % of the entire amount you have to pay for reservation.
The outstanding sum you have to pay 14 days before we start the journey.
Our account we will give you per e-mail or fax.
Dates for groups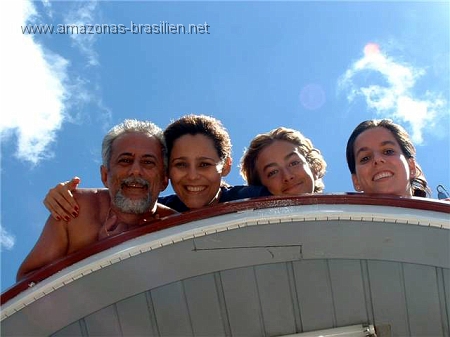 For groups we offer special agreements for an Amazon-Tour. Up to 4 persons we arrange an individual appointment.
For more details contact us that we can give you more information.
Arrival – how to get to us
There is no direct flight to Belém that's why you have to come over Recife, Rio de Janeiro or São Paulo. The best is to book the connecting flight in your travel agency. We will wait for you at the airport of Belém and take care that you will have wonderful holidays with many experiences.
If you have any questions, please contact us.